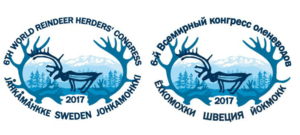 16-20th August, 2017
Jåhkåmåhkke-Jokkmokk, Sweden
6wrhc.org
There are 24 different indigenous peoples that base their lives on herding domesticated reindeer today. These nomadic reindeer herders live across the entire circumpolar Arctic and Sub-Arctic region, including areas in Sweden, Finland, Norway, Russia, China, Mongolia, US/
Alaska, Canada, Greenland and Scotland. These groups currently herd around 2,5 million domesticated reindeer, and are altogether close to 100 000 people, all included.
Every 4th year, all reindeer herding peoples of the world have their own Assembly –The World Reindeer Herders' Congress- which is the most important meeting arena for world reindeer herders. These congresses represent the superior body of Association of World Reindeer Herders (WRH), the international indigenous peoples' organisation for all reindeer herding peoples.
This important international event is hosted by Sáminuorra, Renägarförbundet, Svenska Samernas Riksförbund and Jokkmokk Municipality, together with Association of World Reindeer Herders. The Congress generally contains 3 parts: An official part, with the formulation of declarations, reports and elections; A professional part, focusing on important issues for sustainable reindeer husbandry; and a cultural part, with display of the unique cultural heritage and expressions of reindeer herding peoples. The 6th Congress will include a focus on human health issues, biodiversity and protected areas, industrial development and food culture.
Since 1990, world reindeer herding peoples have built their own transboundary people-to-people collaboration, and created their own worldwide CSO/ NGO in 1997. Association of World Reindeer Herders (WRH) has been a Regular Observer to the Arctic Council since 2000, and has had UN EcoSoc Consultative Status since 2010. In 2005 one has also established International Centre for Reindeer Husbandry (ICR), a professional institution for world reindeer herders and a member of University of the Arctic. ICR has the responsibility to coordinate the professional parts of the Congress.
Welcome to Jåhkåmåhkke!